Free Shipping

We are committed to making your shopping experience as hassle-free as possible by bringing your mattress in a box to you anywhere in Australia, free of charge. A better night's sleep—brought directly to your door.

100-night risk-free trial

We give you 100 nights to try out your custom-made mattress, and if you are not happy, we will give you a refund. Add to this our 10-year warranty, and you can purchase today in complete confidence.

Made to order

We don't start working on your mattress until we receive your order. This means that our mattresses never sit in a warehouse and spend as little time in the box as possible, ensuring they arrive at your door in the best condition possible.
Carefully and consciously crafted in our Melbourne factory, every EURI customised mattress comprises the best quality and environmentally friendly Australian-made components to create the most supportive and comfortable sleeping environment.

Inside: The foam comfort layer allows you to specify the perfect combination of structure and softness for the best night's sleep. The core layer in every mattress is constructed to provide the strength necessary for spine support.

Outside: The quilted mattress top combines three luxurious layers and provides an unparalleled level of comfort. The quilting helps prevent bunching, stretching, or creasing over time and helps to ensure the longevity of the mattress.

The EURI multi-layered construction, including antimicrobial, hypoallergenic and organic material options, creates a mattress that truly feels like home.
| Size | Box size | Mattress size | Weight (including box) |
| --- | --- | --- | --- |
| Single | 104 x 40 x 40cm | 188 x 92 x 24cm | 21kg |
| King Single | 119 x 40 x 40cm | 203 x 107 x 24cm | 25kg |
| Double | 149 x 40 x 40cm | 188 x 137 x 24cm | 29kg |
| Queen | 165 x 40 x 40cm | 203 x 153 x 24cm | 36kg |
| King | 195 x 40 x 40cm | 203 x 183 x 24cm | 43kg |
We provide free shipping on all orders.

Please see our shipping policy for estimated delivery times. Wherever possible, please ensure you permit us to leave your order unattended by ticking the box provided in your shopping cart. Deliveries are made directly to your door. For safety reasons, our drivers cannot enter your premises or carry orders up flights of stairs.

Please note, our boxes are heavy (up to 43kg for king size mattresses). So please take care and use a hand trolley or arrange for someone to assist you in moving your mattress.
Estimated delivery times (metro): *Transit times listed below are in addition to manufacturing time, which may take up to 48 hours. For regional deliveries, please allow up to an additional 10 days for delivery.
| State | Delivery Days |
| --- | --- |
| VIC | 1-2 Business Days |
| ACT | 1-3 Business days |
| NSW | 1-3 Business days |
| SA | 1-3 Business days |
| State | Delivery Days |
| --- | --- |
| TAS | 1-3 Business days |
| QLD | 3-5 Business days |
| WA | 4-7 Business days |
| NT | 5-8 Business days |
We can only rest easy when we know that you are too.
At EURI, we have made it our mission to manufacture the best Australian mattress in a box. All EURI mattresses utilise the highest quality, Australian-made components and are carefully constructed in our Melbourne factory.
We stand by our products. So much so that we offer a 100-night risk-free trial and 10-year warranty on every custom-made mattress.
Click here for trial, warranty and mattress care information.
Option 1:&nbsp Australian-made luxury soft knit quilted cover. Hypoallergenic, anti-bacterial and anti-microbial
Option 2:&nbsp Premium Australian-made natural cotton quilted cover. Uses natural, unbleached cotton A more breathable organic material
Australian-made hypoallergenic 270GSM wadding
Australian made antimicrobial treated GECA-certified foam core
Australian-made antimicrobial-treated GECA-certified foam comfort layer provides the ideal marriage of cushion and resistance, allowing you to select your perfect level of firmness
Australian made antimicrobial treated GECA-certified foam core, a firmer layer providing additional support and optimising spinal health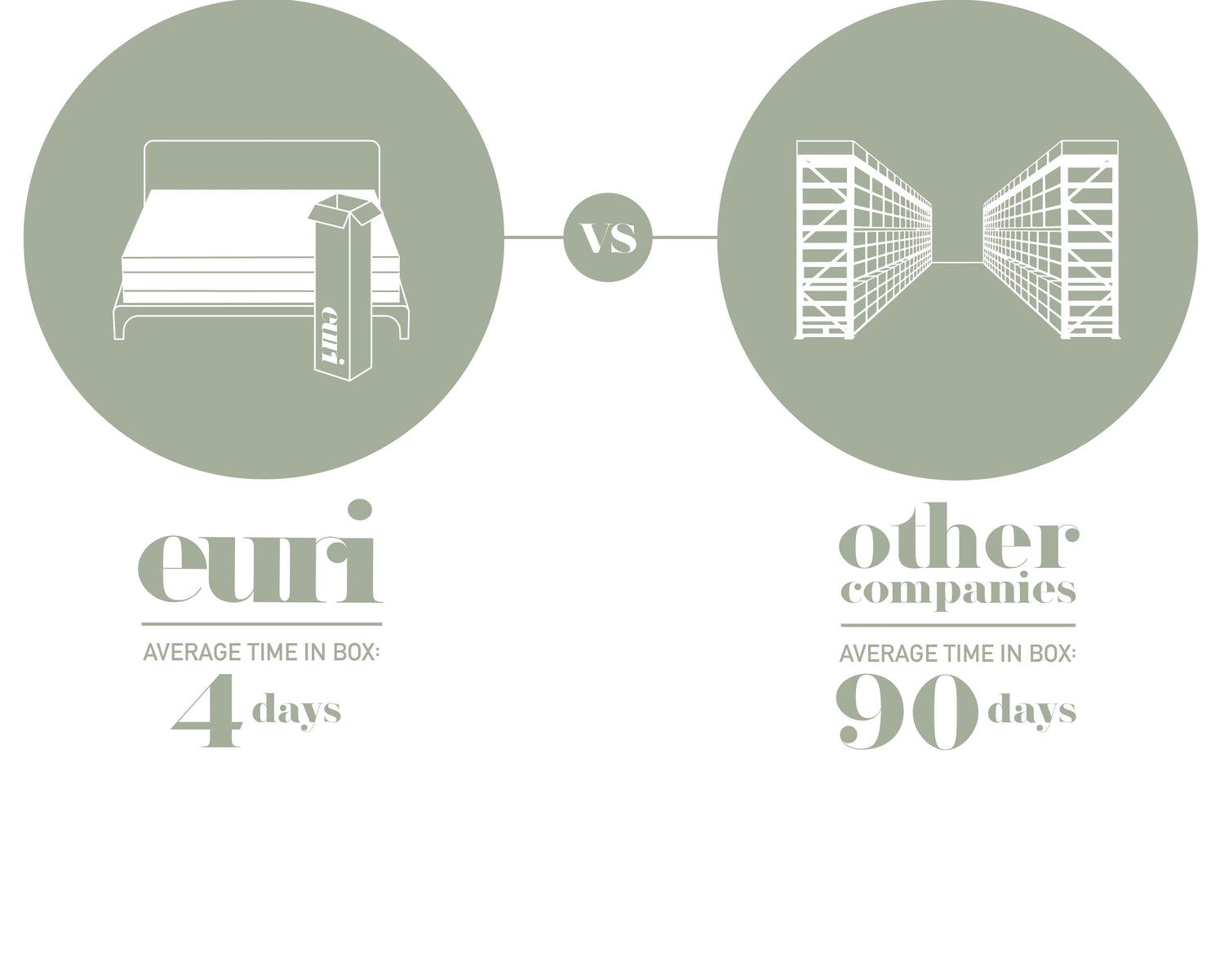 Did you know...
If a mattress spends too long in a box, it will never really bounce back? We tell you how long our mattresses spend in a box, does anyone else? 
Find out more
Average time in box | 4 Days
Competitors average | 90 Days